Residential Locksmith Richardson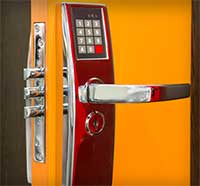 Does the recent rise in residential home burglaries and invasions, bother you? Do you want added protection for your home and it's contents? Does the idea of high security residential locks interest you? Would a free consultation with a fully certified home locksmith specialist help you make some good choices?
Has someone been stealing your mail? Are you missing magazines, newspapers, and even bills? Would you like to secure your home
mailbox against future theft?
Did you know that many home burglaries are committed by easily breaking into the garage first? Would you like cost effective and professional locks for your garage door that would thwart these types of burglaries?
Call Us:(972) 587-1998
When it comes to keeping your loved ones and your home safe, don't cut corners! When you use the professional residential locksmith services of Locksmith Richardson, you don't have to.
Our highly touted home lock and key services are full value, but not high priced. You save time and money by calling us, and taking advantage of our vast experience (over 27 combined years!) and well-trained backgrounds.
Locksmith Richardson has your home lock and key situation covered with our 24-hour emergency service, our flexible appointment setting, our on-site work capabilities, and our fully certified and licensed credentials.
Choose from a huge assortment of home locksmith services like:
Mailbox locks
Door and window re-keys
Biometric entry systems
Break-in repair
Video surveillance
Access control systems
Broken-off keys removed
Master key systems
Repair for damaged locks
Locks for garages
Decorative locks
Mortise locks
Pool gate locks
Free consultations
Locks for gun safes and cabinets
and many more!
When only the best will do, call on Locksmith Richardson. We offer free estimates, and free consultations, so that you always know you've made the right decision.
Guard home base like you should, with our professional locksmith help.
Call Today:(972) 587-1998